Profile
Written by Administrator
Sunday, 29 April 2012 12:27
Tamkco Kadous was established 1996 as a leader in offering a comprehensive selection of security and technology systems in Egypt and the Middle East .
The Company started as a Subcontractor and developed throughout the past years .we enlarged our business since we started and now we have more than 52 experienced Installation hard ware engineers and a well-equipped laboratory with our powerful abilities and compliment to the global standards , we will continue to introduce professional integrated services and solutions to the Market.
Now we are operating as a Group of business companies in different business Sectors :
• Tamkco Head office in Cairo and service center.
• Tamkco Cairo warehouse.
• Silky Factory for scourer manufacturing.
• Xtreme wake in Dubai for wake boarding.
• Noppies, Baby Aspen & Kate Aspen for maternity and kids wear.
Tamkco History Milestones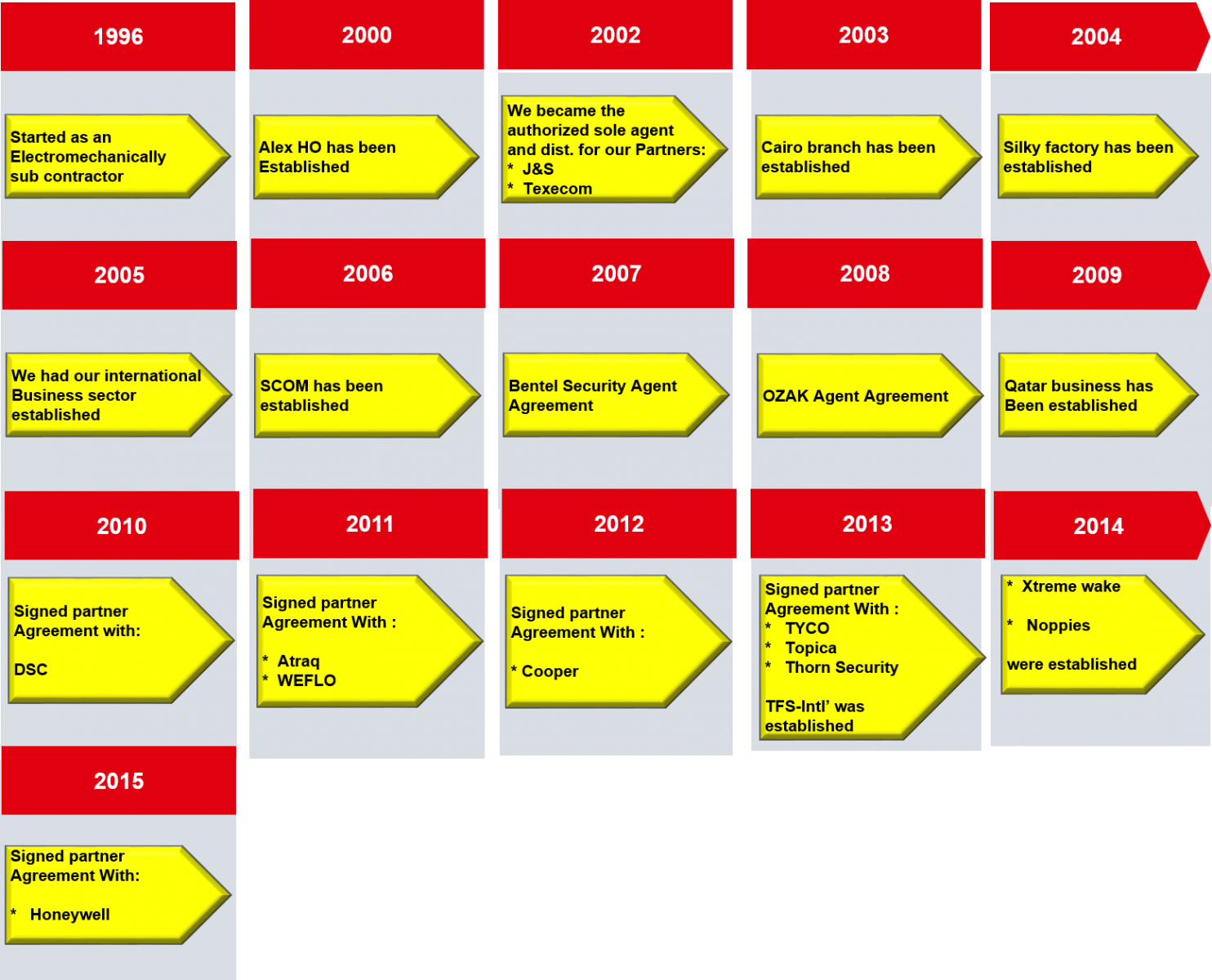 Introduction
Tamkco provides Security solution that has brought quality engineering designs to the Security & communications markets in Egypt and the Middle East.
·Tamkco is unique in its ability to provide services, products, and solutions on a global basis to achieve the required benefits of the Security & Communication Systems.
·Tamkco is a leader company with the ability to plan, develop, deploy, maintain, manage Security& communication Systems to provide innovative products, services and solutions to support the highest standards of performance and reliability demanded by electromechanical consultants, electromechanical subcontractor's service providers, technology manufacturers, integrators and our valuable customers.
OUR Target:
providing a high quality products and One Source Technology Solutions wich ad here to the international standards, with competitive prices.
· We have always focused on simple human ambition that include among others making or saving, improving the quality of life and preserving nature and all the solutions are designed to allow our customers to easily achieve these basic requirements in the future.
· We are looking forward to a bright future in which our employees and partners continue to support and build our culture of uncompromising honesty and integrity by following TAMKCO conduct policies in every aspect of our operations.
What we stand for :
· Providing customers an attractive return through sustained quality growth.
·Satisfying customers with superior quality, value and services.
·Respecting our social and physical environment.
·Being a company where professionals and proud to be part of .
Mission

---

Our mission is to be the premier global supplier to the Electronic Security Industry by responding, on time, to our customers' requirements with the most innovative and cost-effective products of the highest quality.

Values

---

We will always…

Maintain an insatiable drive to continually improve our abilities to serve our customers and lead the industry;

Safeguard our reputation , image and manage our company with professionalism and efficiency at every level;

Maintain the highest levels of honesty, integrity and fairness in all of our dealings with associates, customers, suppliers or anyone we come in contact with;

Comply with industry standards, regulations and ethics and participate in efforts for the betterment of the industry;

Attain results and share in the rewards derived from our successes and provide the shareholders with a return on investment that allows for future investments in the growth of the com Cultivate strategic alliances and seek out opportunities that can enrich our knowledge and support our development.
Last Updated on Sunday, 12 June 2016 11:00